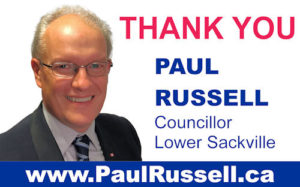 The results from the 2020 election are in, and they show that you would like me to continue to represent us at City Hall.
Thank you, so very much, for that honour.
I would like to thank everyone for their support, their encouragement, for sharing their concerns, and for generally looking to make Sackville an even better place to live. I would also like to thank all of those on my campaign team, especially Donna, Karna, and Madison. I wouldn't have been able to do this without you.
Now that the election is over, the real work continues. We have talked about a lot of your concerns through the election period, and I've already started moving forward on many of them.
The main Sackville issues that we talked about are:
Speed on neighbourhood streets
A sidewalk on Old Beaver Bank Road
Youth engagement in our community
Rankin Drive crosswalk island
Homeless and housing issues
Community garbage cleanup
Snow removal
Safe pedestrian crossing of the 101
Lower shrub height on street corners
Sidewalk from Glendale Drive to Bedford Commons
Another off leash dog park
First Lake testing and remediation
Increased police presence
Traffic noise (especially muffler noise)
The main HRM wide issues that we talked about are:
Parking in the downtown core, especially for hospital workers
Bus schedules, across Sackville and to the downtown core
Affordable / Accessible / Available housing
We talked about many other issues as well, but these were the main items that you brought up.
Over the next while I will be working with HRM staff, with you, and with the province to move these forward.